First F-35A for Poland Enters Assembly at Georgia Facility
April 12, 2023
The first Lockheed Martin F-35 Lightning II for the Polish Air Force has formally entered production on the F-35 center wing assembly line in Marietta, Georgia, a significant milestone for Poland's F-35 program. This milestone was highlighted when Prime Minister Mateusz Morawiecki visited the facility today to learn more about Lockheed Martin's efforts to support Poland's armed forces.
The first component, the center fuselage wing assembly (CWA) represents approximately one-quarter of the aircraft's fuselage. The aircraft's wings are attached to the CWA during final assembly, which takes place at the Lockheed Martin facility in Fort Worth, Texas.
The first F-35s for Poland will be delivered to the Polish Air Force in 2024 and deliveries will continue through 2030. Poland's first F-35s will arrive in-country at Łask Air Base in 2026.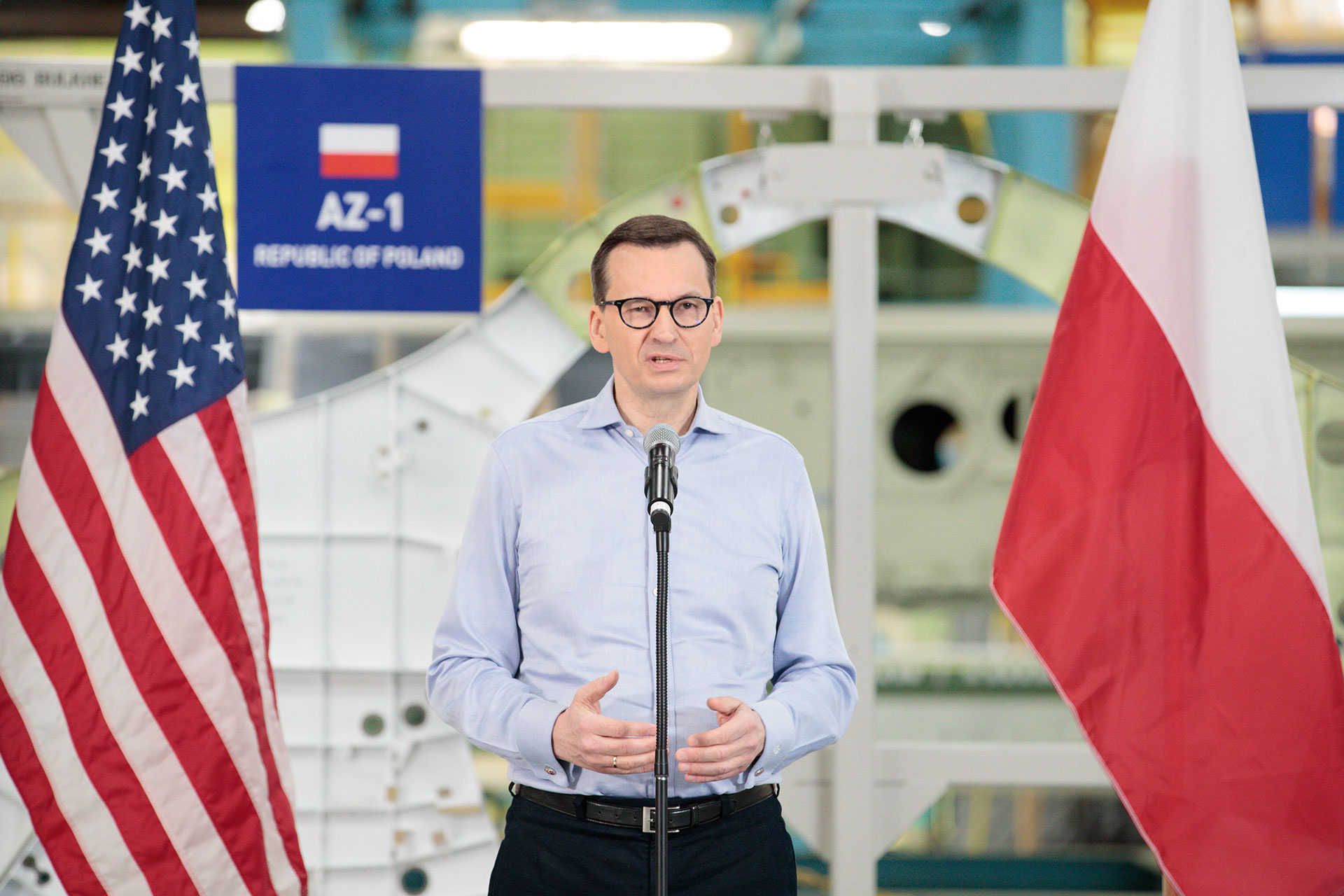 Poland's Prime Minister Mateusz Morawiecki toured Lockheed Martin's Marietta, Georgia, assembly line, where the first components of Poland's F-35As are being assembled. During the visit, the Prime Minister signed the bulkhead of Poland's first F-35A Lightning II.
Poland will receive 32 F-35s equipped with Technology Refresh 3 (TR-3) and Block 4 capabilities. TR-3 represents the most significant evolution in capabilities to date for the F-35, including increased computing power, sensor capability, weapons capacity and more. With its unmatched data sharing capabilities, the F-35 will connect national security platforms into a cohesive network that provides awareness across the 21st Century Security battlespace and enables a clear decision-making advantage.
Lockheed Martin has been a trusted partner supporting Poland's national interests for more than 20 years, providing a variety of defence and security programs including Air Sovereignty Operation Centers, Sniper advanced targeting pods, Black Hawk helicopters and supporting pilot, maintainer and soldier training through live and simulation-based training environments. These and other Lockheed Martin technologies help to ensure Poland can defend against outside threats while strengthening the country from within. Through the sustainment of thousands of highly skilled Polish jobs, Lockheed Martin also supports Poland's national economic growth.
For additional information, visit our website: www.lockheedmartin.com.
About Lockheed Martin
Headquartered in Bethesda, Maryland, Lockheed Martin Corporation is a global security and aerospace company that employs approximately 116,000 people worldwide and is principally engaged in the research, design, development, manufacture, integration and sustainment of advanced technology systems, products and services.
Please follow @LMNews on Twitter for the latest announcements and news across the corporation.
#   #   #
Media Contact:
Lockheed Martin: Brittany Malone, 682-760-7189; brittany.g.malone@lmco.com
---