News
Italy's Air Chief: F-35 'Changed Completely the Mindset'
October 16, 2023
Story by: Air & Space Forces Magazine

One of the F-35's biggest international partners, Italy is expanding plans for the fifth-generation fighter—and using it to draw lessons for a future sixth-gen aircraft, the Italian Air Force's top officer said Oct. 12. 
Gen. Luca Goretti highlighted the interoperability and versatility of the F-35 during a livestreamed discussion with the Mitchell Institute for Aerospace Studies and echoed many of the same initiatives that U.S. Air Force leaders have pushed: increased focus on the Indo-Pacific and dispersed airfields with common, prepositioned equipment. 
The F-35 "was used to change the attitude of the overall air force," Goretti told retired USAF Lt. Gen. David A. Deptula. The Italian Air Force was among the very first in Europe to receive the aircraft and has been a "leading nation" in proving its capabilities. 
"The F-35 has to be considered not only an aircraft, but it has to be considered a node of data information," Goretti said. "So we use that aircraft to change completely the mindset of the people. It is no longer an aircraft to fly but actually is a data machine available in the air for everyone." 
Italy contributed more to the F-35's development than any nation besides the U.S. and United Kingdom. With 90 F-35s on order, it is building the fifth-largest fleet in the world, split between 60 F-35As like those of the U.S. Air Force and 30 F-35Bs, like those of the U.S. Marine Corps, which are capable of short/vertical takeoff and landing.  
The B models are crucial for Goretti's plans for "Air Expeditionary components," similar to USAF's Agile Combat Employment.
"We do have many, many short airfields around the world. So we decided, why don't we take some Bs for short-distance takeoff and landing in order just to be relevant everywhere in the world," Goretti said. "The Afghanistan scenario gave us a thought on this. So we decided just to get some Bs. And then it turned out to be a wise idea, because if you consider also what's happening in Ukraine, airfield dispersion can be maybe one day the only way to protect your high-value assets." 
Just as the U.S. has emphasized the need for prepositioned equipment to support small or austere airfields, the Italian Air Force is also looking to make sure more places have the infrastructure in place to support the F-35.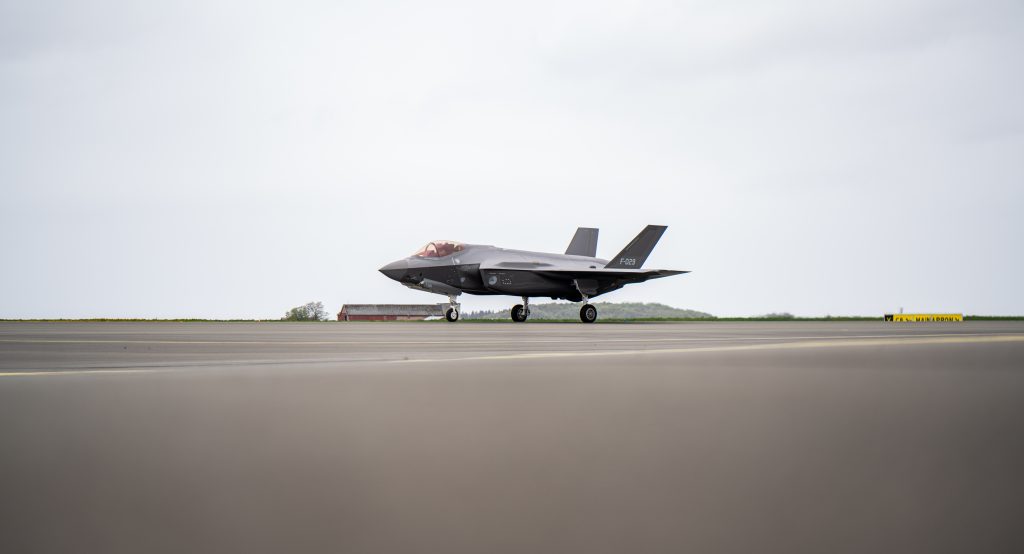 An Italian Air Force F-35A Lightning II stealth fighter taxis to the runway at Norway's Ørland Air Base during Arctic Challenge Exercise 2023, May 31, 2023. U.S. Air Force photo by Capt. Daniel de La Fé
"We decided just to ask to our logistic people to find standard buildings and structures similar to … several airfields in our country, and proposing the same thing also to other friendly countries, in order just to have the same buildings, the same equipment, the same block in the same spot, in case you do have to run away from your main operating bases," Goretti said. "We cannot afford to lose time. But most of all, we cannot afford to lose our capacity, only because we haven't planned accordingly in advance a place to run and protect ourselves." 
While Goretti cited the example of Ukraine, the need to disperse and operate for different locations may be especially crucial among the vast area of the Pacific. On that front, the Italian Air Force has taken steps as well. In August, a contingent of four Italian F-35s flew to Japan for a training exercise. 
"It was not only just to show the capability to project for the first time European F-35 at so far a distance in the Pacific, but also to see if I was able to sustain this kind of deployment without canceling any other activities that were already in place in Europe," Goretti said. "That means that I was able to prove to me, convince myself, that my Air Force, especially the logistics system over there, is capable to move fleets and people around without leaving some priorities." 
Goretti is planning an even bigger demonstration next year—some 25 F-35s to Australia for the RAAF's Pitch Black exercise. 
"With the geopolitical situation like this today, we cannot afford just to be caught by surprise, to say just in case, some days or one day and say 'I hope not.' We have to do something in the Indo-Pacific," Goretti said. "I cannot afford just to receive an order to deploy somewhere and not be able to move around because of diplomatic clearances, for instance, because I cannot do overflight somewhere." 
All these lessons on collaboration and flexibility will likely feed into the Global Combat Air Program, a partnership between Italy, the U.K., and Japan on a sixth-generation fighter. While still in its early stages, GCAP is already building on the F-35 and changing the way the Italian Air Force thinks about its future, Goretti said. 
"GCAP no more has to be considered as an aircraft. It is a system of systems, where everybody can play and use the technology and digital information, artificial intelligence, or other means in order to be relevant for the fight of the future," said Goretti. "With this in mind, the program is not only a way to increase our knowledge on the technical point of view, but also how to increase the knowledge and the power of the people that will fly those kinds of systems."
---